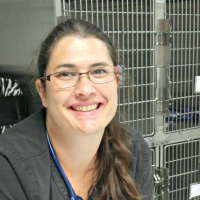 Elizabeth Wilcox, DVM
Dr. Wilcox received her DVM from Kansas State University in 2006. She practiced in Georgia, South Carolina, and the Kansas City area prior to purchasing Louisburg Animal Clinic in 2015. She and her family, which includes husband Lantz, son Liam, dogs Hank, Jake and Mr. Nancy, cats Ivan and Teddy, rabbit Missy, corn snake Craig and a goldfish named Pinky, are happy to have joined the Louisburg community.
Dr. Wilcox serves as advisory veterinarian to Olive's Hope Pet Rescue. When she can find the time, Elizabeth enjoys poker, board games, and reading.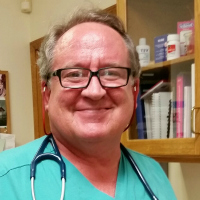 Tim Lyon, DVM
Dr. Lyon is a graduate of Kansas State University and completed a residency in small animal medicine at The University of Pennsylvania. He has provided care to the patients of the Louisburg Animal Clinic since 1999.
Dr. Lyon's most memorable life experience has been living on an Indian Reservation in Pine Ridge, South Dakota doing volunteer work in 1974. He has five cats at home.