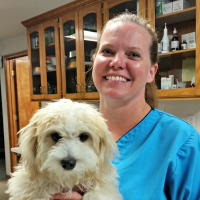 Stephanie
Stephanie is our Office Manager and her motto is "If it needs done, do it" and Louisburg Animal Clinic has had the benefit of her determination to get things done since 1997.
She enjoys spending time with her family, which includes three dogs and three cats, watching old movies, and reading. Her love of baseball led her to become involved with Swing for the Cure, a nonprofit organization which raises funds for cancer research.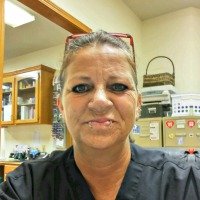 Shelia
Shelia loves all animals, "finned, feathered, and furred," and shares her home with two polydactyl (extra-toed) cats, Simba and Bamma, as well as a dog named Batman and several fish.
Shelia says, "Work smarter, not harder," and has been finding ways to do that for LAC since 2006.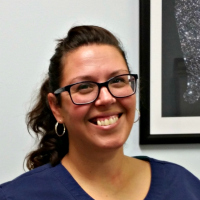 Jessica
Jessica and her family recently moved to the 80 acre farm south of Louisburg which was once her childhood home. She joined the LAC team in 2015.
Jessica has two dogs, a Miniature Pinscher/Pug mix named Oliver, and a three-legged Schnauzer mix named Lelo.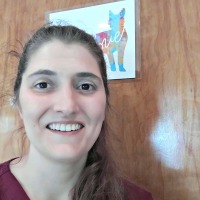 Clare
Clare lives with her husband and daughter and "the boys"-- Booker, a shepherd mix, and two black and white cats, Francisco and Pierre. She joined the LAC team in 2015.
In her free time, Clare attempts home improvement DIY projects, accumulates unused craft supplies, coaches televised sports loudly and ineffectively from her couch, and enjoys entertaining family and friends.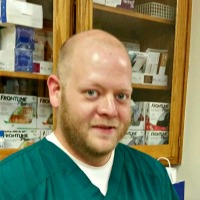 Sean
Sean is a registered veterinary technician (MO) who joined the team part time in 2016. Sean has a Bachelor's degree in psychology from KU and received his Associate's degree in Veterinary Technology from Maple Woods. Sean has two dogs, Maddy and Link.
When not taking excellent care of patients and clients, Sean enjoys cheering on the Chiefs and has been a lifelong fan of the KC Royals!
Candice
Although she's been working with animals in some capacity for six years, and grew up on a cattle farm, Candice just started with LAC in August of 2016.
Candice has one cat, three dogs, three quail, ten turkey, and over thirty chickens at home. When she isn't busy with animals, Candice spends time quilting and crocheting.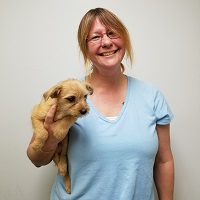 Tonya
Although she has only been working with us as a veterinary assistant since 2017, Tonya has worked in animal hospitals previously and is experienced in many clinic roles.
Tonya loves golf, listening to music, and animals, especially her adopted kitties Eleanor and Rigby.
Caleb
Caleb is a recent Louisburg grad curently enrolled at JCCC.
He has a Lhasa Apso/ Bichon mix named Marlee. Caleb loves to play piano, read, and make videos. Caleb has worked at the clinc since 2014.
Ireland attends Cass Midway High School and is a prominent member in Student Government and FBLA (Future Business Leaders of America).
She has three barking best friends, Ladybug, Disco and Stanley. Ireland enjoys listening to music and spending time with her friends and family.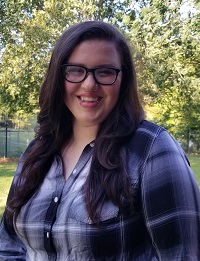 Sam
Sam helps us take care of the boarding patients at the clinic.
Sam attends Paola High School, where she is an award-winning artist. When she isn't at school or work, Sam enjoys listening to music and fostering homeless pets.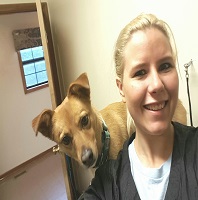 Dakota
Dakota has been working in the animal care field since 2012 when she got her first job out of highschool at an animal shelter. She went on to get her equine and canine massage certification and from there she went on to be a grooming assistant. She became a groomer in 2015.
Dakota loves to express herself with bright colorful hair and when she's not working she enjoys walking her four dogs Kali, Clover, and Charlie and Judge.She and her husband also have a ball python named Ringo and a wobbly cat named Tipsy at home.
Lantz
You may not be lucky enough to meet Lantz, as he does most of his work behind the scenes at the clinic. He performs IT support, building maintenance, and handles many of the other things necessary to keep things running smoothly.
Originally from Ohio, Lantz enjoys cooking, playing poker, reading, board games, and cheering on the Cleveland Cavaliers.